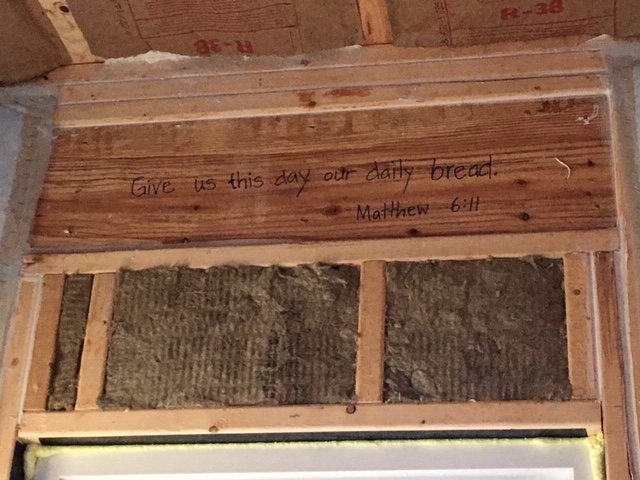 We are building a new house! We have a great builder. He told us that sometimes people like to write verses from the Bible on headers or posts before the sheetrock is installed. Well, the sheetrock is being installed this week, so Susan and I went early this week with pages of favorite verses and passages, sharpie pens, and heavy coats. It was fun to decide which verses should go where and why. Today, the first sheets went up, so some of our verses are already covered.
There is no magic in a Bible verse. But, there is power in words, so as we wrote these words we were praying for God's blessings. Every entrance has Luke 10:5 written over it – "Peace to this house." There are also verses that remind us whose we are and some that remind us how to live as followers of Christ. In other words, the words are for our benefit – no one else will ever see them once they have been covered with sheetrock, paint and trim – but maybe people will see the verses lived out in this building.
In case you would like to do something like this, here are the rooms and verses that we wrote in them.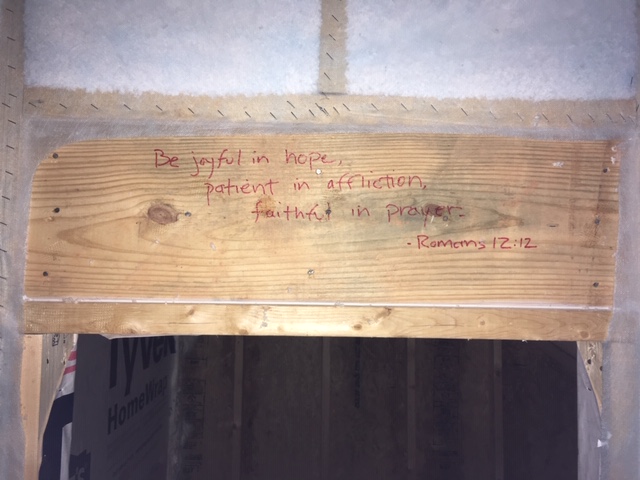 Scriptures written on headers, blocking, and doorposts of
Rick and Susan Jordan's house
All entrance doors: Peace to this house. Luke 10:5
Steps: Trust in the Lord with all your heart, and do not lean on your own understanding. In all your ways acknowledge God, and God will make straight your paths. Proverbs 3:5-6
Living room:
Love one another as I have loved you. John 13:34
Now these three remain: faith, hope, and love. But the greatest of these is love. 1 Corinthians 13:13
Love must be sincere. Hate what is evil; cling to what is good. Be devoted to one another in love. Honor one another above yourselves, never lacking in zeal but keep your spiritual fervor serving the Lord. Be joyful in hope, patient in affliction, faithful in prayer. Share with the Lord's people who are in need. Practice hospitality. -Romans 12:9-13
Kitchen: Do not neglect to show hospitality to strangers, for some have entertained angels. Hebrews 13:2
Dining room:
Give us this day our daily bread. Matthew 6:11
My cup overflows with your blessings. Psalm 23:5
Matthew 5: "Blessed are the poor in spirit,
for theirs is the kingdom of heaven.
4 Blessed are those who mourn,
for they will be comforted.
5 Blessed are the meek,
for they will inherit the earth.
6 Blessed are those who hunger and thirst for righteousness,
for they will be filled.
7 Blessed are the merciful,
for they will be shown mercy.
8 Blessed are the pure in heart,
for they will see God.
9 Blessed are the peacemakers,
for they will be called children of God.
10 Blessed are those who are persecuted because of righteousness,
for theirs is the kingdom of heaven.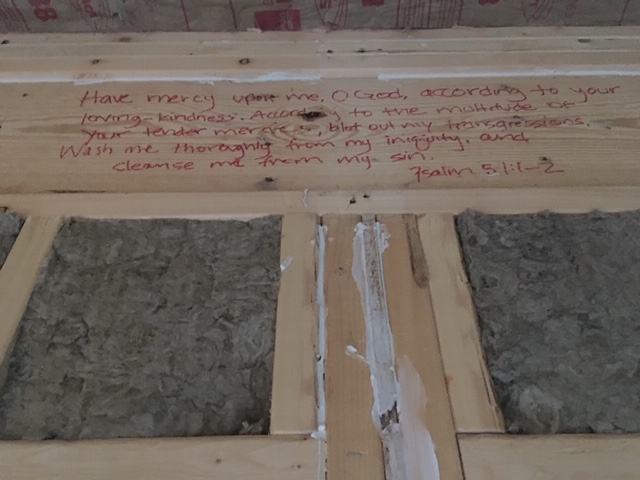 Laundry room: Have mercy upon me, O God, According to Your loving kindness; According to the multitude of your tender mercies, blot out my transgressions. Wash me thoroughly from my iniquity, and cleanse me from my sin. Psalm 51:1-2
Master bedroom:  Love is patient, love is kind. It does not envy, it does not boast, it is not proud. It does not dishonor others, it is not self-seeking, it is not easily angered, it keeps no record of wrongs.  Love does not delight in evil but rejoices with the truth.  It always protects, always trusts, always hopes, always perseveres.  Love never fails. 1 Corinthians 13:4-8a
I lift up my eyes to the mountains— where does my help come from? My help comes from the Lord, the Maker of heaven and earth. Psalm 121:1-2
Master bath: Love one another as I have loved you. John 13:34
It is not fancy hair, gold jewelry or fine clothes that should make you beautiful. No, your beauty should come from within you – the beauty of a gentle and quiet spirit. This beauty will never disappear and is worth much more to God. 1 Peter 3:3-4
Closets: Clothe yourselves with compassion, kindness, humility, gentleness and patience. Colossians 3:12
But above all these things put on love, which is the bond of perfection. – Colossians 3:14
Elevator: We can make our plans, but God directs our steps. -Proverbs 16:9
The Lord bless you and keep you; the Lord make his face to shine upon you and be gracious to you; the Lord lift up his countenance upon you and give you peace. Numbers 6:24-26
The Lord will watch over your coming and going both now and forevermore. Psalm 121:8
Bedroom: Do justly, Love mercy, Walk humbly with your God. -Micah 6:8
The Lord will give grace and glory; no good thing does God withhold from those who walk uprightly. -Psalm 84:11
Bathroom: God's mercies are new every morning – Lamentations 3:23
Bedroom: This is my command, be strong and courageous. Do not be afraid or discouraged for the Lord your God is with you wherever you go. -Joshua 1:9
Be joyful in hope, patient in affliction, faithful in prayer. Romans 12:12
Study: Whatever you do, work at it with all your heart, as if working for the Lord, not for human masters. Colossians 3:23
For I know the plans I have for you says the Lord, plans of peace and not of evil, to give you a future and a hope. Jeremiah 29:11
Bathroom: Give us clean hands and pure hearts. Psalm 24:4
Garage: Everyone who hears these words of mine and acts on them may be compared to a wise man who built his house on the rock. Matthew 7:24
You will be blessed when you go in and blessed when you go out. – Deuteronomy 28:6
Basement/exercise room: Be completely humble and gentle, be patient, bearing with one another in love. Ephesians 4:2-3
I have no greater joy than to hear that my children are walking in the truth.3 John 4
By wisdom a house is built, and by understanding it is established; by knowledge the rooms are filled with all precious and pleasant riches. Proverbs 24:3-4